To pin individual projects, please click the project image and pin from the original source.
To pin this post please pin the image above. Thanks!
Another week is behind us! Can you believe it?! You are not going to hear me complain that it's the weekend! Our weather here in Albuquerque has been great and it's been raining across New Mexico!I'm not sure if fall is here or if we're just getting a teaser. Either way, I'll take it! The New Mexico State Fair started this week, so I'm hoping to get out for a day of
fair food
fun before too much of the good stuff is over. Most of all this week, I am just enjoying my bedroom makeover. I'll be working on the budget breakdown and details posts this weekend, so look for those to come up in the next week or so. In the meantime, take a look at the great projects I'm featuring this week!
This week is about going for the gold! Just kidding, but I do have two features this week that are all about the gold. The first is a tutorial from
My Cup Runneth Over
on how to make these cute personalized
gold dip dot monogrammed mugs
. I think these would make great Christmas gifts and they only took 15 minutes to make!
The second gold project this week is a
DIY gold dipped mirror frame
from
Pretty Providence
. This frame was actually made from lumber, not upcycled from another mirror. I am totally impressed and love the end result. What a pop of glamour it would add to any space!
Up next is a great lunch treat or snack that I would have loved to munch on during my road trip last month. It's a
spicy ranch Goldfish snack mix
! Seriously, who doesn't love Goldfish? You can get the recipe (more like instructions) for making this mix yourself over at
Tidy Mom
.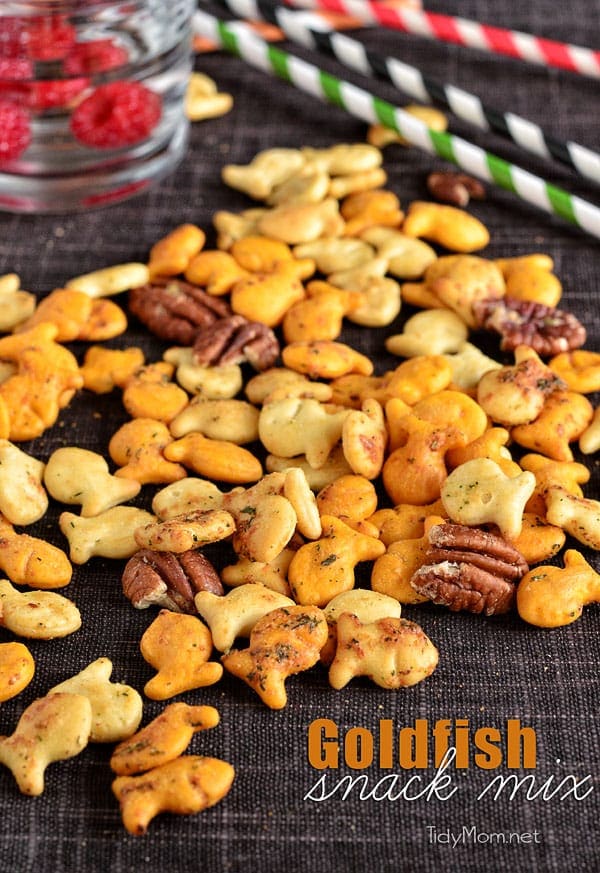 Finally this week I am sharing a
great
project that I definitely hope to complete as an apartment dweller: an
ironing board tray
! Genius! This is such a great idea... I could store this behind a door, under my bed, in my closet. So many possibilities!
But guess what my favorite part is? The picture of
Odo
's cousins! Look at Marti's beautiful long-haired Calico's!!
I absolutely love all of the projects this week! I hope you all have a great weekend!
If your project was featured this week, be sure to grab my featured button!
Here's what I've been up to this week: