Ever since I posted about the Cinderella pumpkin last week, I have been hyper-tuned to pumpkin projects. Isn't that weird how that happens? You learn a new word or hear an old song and then you see and hear it everywhere? (P.S. that's called the Baader-Meinhof Phenomenon

). So, now that we've all learned our new fact for the day, let's look at the four pumpkin projects I'm crushing on this week!
To pin individual projects, please click the project image and pin from the original source.
To pin this post please pin the image above. Thanks!
So far my favorite no-carve pumpkin technique comes from Alexis at
Jacolyn Murphy
. She decorated her pumpkins to look like
Elvis and a king
! She is so creative with the stem-to-hair transformation and the sideburns. I love it!
Another easy no-carve decorating idea comes from Meredith at
Unoriginal Mom
. She had the great idea to add a
glitter monogram
to her painted pumpkin. She shares a great (no-mess) tip for getting the glitter to stick to the pumpkin that you must see!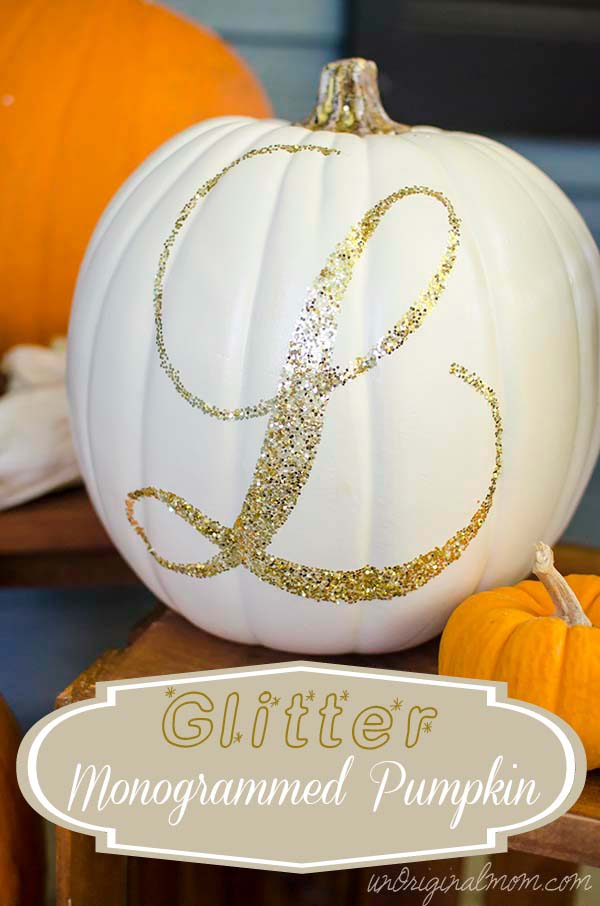 The third no-carve pumpkin idea involves a little bit o' mod, a little bit o' paint, and a little bit o' creativity. These
mod painted pumpkins
from
4 Men 1 Lady
are so fun! The thing I like best is that she painted the mini-pumpkins that don't take up so much space! What a fun Halloween/fall project!
From the time I get up on Saturday until I head to bed on Sunday I have candles burning in the fall. I think it is just a great way to make my apartment feel a little more "in the season." I usually use the jarred candles and have pillar candles as decor so when I ran across Jessi's tutorial for making

mini pumpkin candle holders, I knew it was one I would have to be sharing!
Aren't these pumpkin projects great? I just need to get my hands on some pumpkins (real or fake)!
Be sure to grab my button below if you project was featured!
Here's what I've been up to recently: