I'm a little bit behind on my reading schedule so far this year, but I'm sure I'll be able to catch up this summer when it's like reverse cabin fever for me (it's just too hot to be outside sometimes during the summer here). I just wrapped up a book last night, so I spent much of last night scouring through my Kindle downloads on Amazon and narrowed by reading list down to these seven books (not to count the books by dad sent me for my birthday in April). All of these books were free when I downloaded them, so be sure to check them out on Amazon to see if they are still listed as free downloads. There is no way I will read all seven of these over the summer, but if one turns out to be a bummer of a read, I know I will have one for a back up.
Come Dancing
It's 1981. Twenty-four-year-old Julia Nash has recently arrived in Manhattan, where she works as a publisher's assistant. She dreams of becoming an editor with her own stable of bestselling authors—but it is hard to get promoted in the recession-clobbered book biz.
Julia blows off steam by going dancing downtown with her best friend, Vicky. One night, a hot British guitarist invites them into his VIP section. Despite an entourage of models and groupies, Jack chooses Julia as his girl for the evening—and when Jack Kipling picks you, you go with it. The trouble is … he's never met a girl like her before. And she resists being just one in a long line.
Jack exposes her to new experiences, from exclusive nightclubs in SoHo to the Chateau Marmont in Hollywood; from mind-bending recording sessions to wild backstage parties. Yet Julia is afraid to fall for him. Past relationships have left her fragile; one more betrayal just might break her.
As she fends off her grabby boss and tries to move up the corporate ladder, Julia's torrid relationship with Jack takes her to heights she's never known—and plunges her into depths she's never imagined.
With a fascinating inside look at publishing, this entertaining story of a bookish young woman's adventures with a rock superstar is witty, moving, and toe-curlingly steamy. (source)
The Job Offer
by Eleanor Webb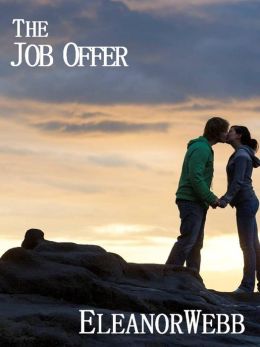 After years in Boston and a year of working for herself as a contract consultant and adjunct professor, Dr. Anne Conner is ready to return home to work in her field as a marine biochemist and research scientist. With money running low, Anne jumps at the chance to interview for her dream job with the world famous Stanford Enterprises research company.
When she makes the final round of interviews, Anne decides to combine her time in Seattle interviewing with a vacation trip to her family's inn on Orcas Island in the San Juan Islands. The last thing she expected was to run in the object of her teenage dreams, Ben Carlson, who is on the island for his sister's wedding. Nor did she plan on the passion that erupts between them. Is their relationship only a vacation romance as they agreed from the beginning, or will it turn into something more when Anne moves back to Seattle?
Just as Anne begins to hope for more, the unthinkable is revealed. Ben is none other than her new boss. Worse yet is that he thinks that she only used him to get the job!
(source)
Showbiz: A Novel
After four years in Manhattan slaving away as the under-appreciated apprentice to the brilliant but ruthless "King of Broadway," Scarlett Savoy is finally on her way to becoming a Broadway producer.
However, when the death of the top New York theater critic rocks the Great White Way, Scarlett begins to discover some dark secrets her boss has been hiding and gets a peek behind the red velvet curtain into Broadway's scandalous backrooms. Then a chance meeting with an influential gossip columnist sparks romance – but can he be trusted? As opening night nears, Scarlett finds herself at the center of the storm as everything she thought she knew about the business of Broadway begins to unravel.
(source)
Twenty-Five
Abigail Bronsen is sure her life is going nowhere when she turns twenty-five and realizes she hasn't done anything on a list of goals she made for herself as a teenager. Ben Harris is looking to find "the one" after his last girlfriend cheated on him. When they crash into each other, it appears they've both found exactly what they wanted. A year of firsts follows: first date, first kiss, first "I love you's." The first fight is inevitable, but neither of them saw a breakup coming. When Abigail is offered a job overseas, they'll discover that no relationship is perfect and even true love sometimes finds itself separated by time and distance.
(source)
My Life on Craigslist
Meet Emily Thompson, 25, quirky, wholesome, with a keen eye for contemporary art. One year after she moves from Buffalo to the trendy East Village, where she lands a job in an art gallery and an artist boyfriend, she loses everything. Alone, broke and depressed, she turns to Craigslist to find - for free - everything she needs for both fun and survival. She soon discovers a wild, flawed world where everyone is either the con or the conned, and decency has flown both the laptop and the desktop. A roommate who is rarely home, turns out to be an escort, which makes Emily get on her high moral horse, but later, when Emily herself becomes an escort for a day things spiral out of control...
(source)
Maximum Insecurity
After three decades as a successful ear surgeon, William Wright, MD is bored beyond belief. He dabbles with retirement, but finds idleness infuriating. He has to do something.
Then he sees an ad for a doctor's position from the Colorado Department of Corrections at a supermax prison. Now that, he thinks, would be different. His wife has some thoughts on the matter too. She thinks her husband just lost his mind and is on a collision course with a prison shiv.
After his first day on the job, he wonders if she wasn't onto something. His first patient is an arrogant, callous youth convicted of five cold-blooded murders. Dr. Wright has to steel himself not to bolt.
Nothing prepares a doctor for life at the Colorado State Penitentiary. He quickly discovers treating maximum security convicts is like treating recalcitrant murderous four-year-olds. Always willing to threaten their doctors with bodily harm, they are more interested in scamming drugs than treatment.
Told with self-depreciating humor and scathing wit, Maximum Insecurity describes Dr. Wright's adventures practicing medicine in a supermax correctional facility without, he's glad to say, getting killed even once.
(source)
Love after Marriage
Compassionate and deeply emotional, 'Love after Marriage' is a contemporary love story about Deepak and Roshni, a young couple flung together in a traditional arranged marriage. The story authenticates the concept of an arranged marriage, which has prevailed in India for several hundred years. It centers on the conviction that husband and wife, strangers at the time of marriage, can develop a stronger love if they are honest and committed to each other.
In Love after Marriage, Deepak and Roshni embark on the timeless journey, only to discover that it's not quite as simple as they expected. What follows is an exploration of understanding and compromise, weaving a tapestry of love and affection that lasts longer and grows stronger over time.
(source)
What are you reading this summer?
{I party with these blogs.}